JERVIS BAY BOOM NETTING + DOLPHIN CRUISE
Add some extra fun to your Dolphin Cruise – Enjoy the Boom-Netting experience!
Combined with the dolphin tour we cruise on the pristine waters of Jervis Bay and drop the boom net in the water to get you wildly wet. An experience like no other, it can only be described like a cruising spa bath that will make you laugh till you cry. Where else can you cruise along a sandy white beach while being gently pulled by the power of our flag ship Port Venture?!
Summer Boom Netting is suitable for all ages and all swimming abilities, even those with any type of disability. It is popular with family groups, corporate days out and festive season celebrations. We are confident the enjoyment and adrenaline rush of boom netting will have you coming back for more!
From mid-May to mid-November. Monday to Sunday, including public holidays.
Departs 10:30am & 1pm*
Please check-in 30 min prior to cruise time at the Terminal inside Fishermans Wharf Huskisson (15 Field Street, Huskisson)
*Cruise times may change due to tide issues for the vessel Port Venture.
The Jervis Bay Wild booking office is located at 58 Owen Street in Huskisson.
Check in: Service Desk inside the cruise terminal Fishermans Wharf Huskisson.
This is west of Huskisson public wharf. Look for the large white umbrellas, absolute waterfront.
2.5 hour drive from Canberra and Sydney to Huskisson, Jervis Bay, South Coast of NSW.
SUNSET
RIVER CRUISE
Cruise the calm waters of Currambene Creek and explore its ecosystem. Enjoy a glass of wine with some nibbles (all BYO) as you watch the sun go down.
JERVIS BAY PASSAGE
Discover Jervis Bay's highlights with its natural beauty and finest white sand beaches. Admire the lighthouse on the towering cliffs and peek into small caves when cruising through the clear turquoise water.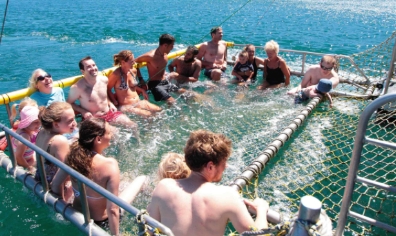 SUMMER
BOOM NETTING
Add on extra fun to your dolphin cruise with boom netting. Cool down in our cruising ocean spa in some of the cleanest and clearest water in the world.
PRIVATE CHARTERS
Book your next memorable event tailored specifically to you and cruise along the pristine waters of Jervis Bay. Catering and beverage options available.